This article is about the Canadian artist and Art Critic:
John Frederick Delisle Parker,  May.16, 1884 – September.28, 1962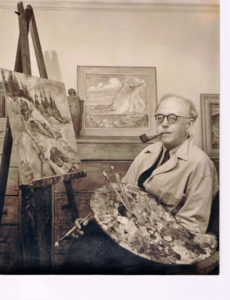 Born in New York City in 1884, John Delisle Parker is listed a "painter sculptor, pupil of Henri, Laurens, Steinlen" and he is in every major reference, including 'list of Canadian Artists'.  Parker moved to England at the age of nine with his Father, George F. Parker.  His Father was appointed American Consular in Birmingham, England.  This presented Parker with unusual opportunities to attend the theatre and meet well known actors within the Shakespeare Society. This experience left a life long impression on him.  He was a newspaper writer at the age of 18 and urged to become an art critic.  He then moved to Paris, attending Ecole des Beaux-Arts, Julian's Academy,  and the Grande Chaumiere.  He concentrated on creative arts, studying with Steinlen.  1928-1934 he lived in Paris, studying and painting, in addition to Portraits, colourful street scenes, the Seine river, it's quays and bridges, old churches and historic mansions.
An Oil Painting from this time, entitled "Horses at Work", was awarded a  Whitney Prize, 1915. (The Whitney Museum's American Art Award is given each year to individuals and organizations that have made a sustained commitment to the artistic and cultural heritage of the arts in America.)
Having received permission from the French Government to paint the colonial army, he traveled and became fascinated with North Africa, working and travelling in Tunisia and going on expeditions on camel back into the desert with Desert Patrol.  He depicted The Bedouins in many of his art pieces of this period.  In 1931, at the time of the Colonial Exhibition in Paris, he was invited by the French Government to display 60 of his paintings, including four large oils.  They were displayed at the Colonial Exhibition in the pavilion of the Overseas Forces of the French Army.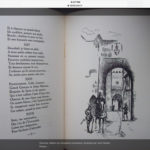 1931, the Paris Government authorized the undertaking of one of the artist's most interesting works, which was illustrating the de Luxe Edition of the poetry of Francois Villon.
He wrote for the McGill News between 1931 and 1934, also illustrating his articles, before moving to Vancouver in 1934. That year in October he had a solo exhibition of Oils, Watercolours, and Drawings at the Vancouver Art Gallery, with a catalogue of works available. The show was well received by the press.  1934, Parker came to reside permanently in Vancouver, Canada.
In her journal ,August. 27, 1934, Emily Carr speaks of the visits that Parker made to her home, "Delisle, just back from Paris, was more than enthusiastic, dubbed some of the canvasses and sketches 'Magnificent'. Emily Carr was "Happy to think that Artists from Paris who have been looking out into bigger worlds see something in mine in this small corner." Parker, under the byline of Palette, was the first critic to recognize and feature the work of many now-famous painters, including Emily Carr.  Under the Pseudonym "Palette" he contributed regular columns of art criticism to the "Vancouver Province" newspaper from 1940-1958. He promoted the work of local artists and became good friends with, Emily Carr, whose work he often featured. In all, 339 of his columns can still be seen at the "Vancouver Province Newspaper".
1951, Lawren Harris of the Group of Seven writes, " John Delisle Parker is an artist whose paintings have never received the attention they so well merit.  He is one of the outstanding artists in British Columbia.". Harris continues "Delisle Parker is a poet in paint.  In addition to this, his paintings have an admirable, rich paint quality, are highly organized and embody an imagination and sensitive perception of whatever he paints.  Whether it be city scenes, the Fraser Canyon, the Caribou Country or Indian legends, his paintings possess a poet's vision of unusual distinction." Lawren Harris, on Parker's Exhibition of Oils and Watercolours at the Vancouver Art Gallery, April.3 – 22, 1951.  His early works were signed John Parker or John F. Parker, but after 1930, he began to use J. Delisle Parker.
He was on a list titled " Leading Vancouver Artists ," provided to the Labour Arts Guild on April 10, 1946 by the Vancouver Art Gallery to assist in the Guild's call for entries to the second annual B.C.  At Work exhibition.  1953, in an article discussing his works, Parker states, "He works with watercolours when he goes to inaccessible places, and when he works quickly.  He often uses his watercolour sketches for the basis of his bigger oil paintings".
He passed away at the age of 78, September. 28, 1962. Lawren Harris was a Honorary pallbearer at his funeral.
Aliases: Palette; John Parker; John F. Parker; J. Delisle Parker, John Frederick Delisle Parker
His paintings can be found at:
The Vancouver Art Gallery, "Gateway to the Canyon, Yale, B.C.", "The Old Carr House", Victoria, B.C. .   The University of B.C., "The Fraser Canyon".
The Officers Mess , Fort Frontenac, Kingston, Ontario, "Count Frontenac".
Four Outstanding Oils were acquired by The Valley Forge Museum of American History In Pennsylvania, USA.
His "Retreat of the Serbian Army" and "Zero Hour" paintings are in the National Gallery of Washington, D.C.
Studies
He studied in England and Paris.
Croydon School of Art, England,
Ecole des Beaux Arts, Paris
Academie Julian, Professor- J.P.Laurens
Grande Chaumiere, Paris, Professor Steinlen
He travelled extensively from The United States, to England, France, North Africa, Tunisia, Manilla, then settling in Vancouver, B.C., Canada in 1934.
He became a Canadian Citizen in 1956.
Art Society Listings
Biographical index of Canadian artists
Dictionary of Canadian artists
Federation of Canadian Artists(Founding member 1941)
B.C. Society of Fine Arts 1941
Vancouver Art Gallery Association 1934
Internationally known artist and art critic for 18 years, under the byline, Palette, writing for the Vancouver Province, 1940-1958.